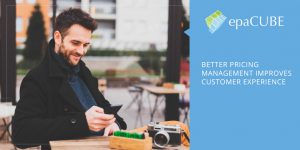 In addition to adding 4% or more gross profit to their bottom lines, distributors who carefully manage their pricing and segmentation with data-driven analysis see an improvement in their customer experience. They don't alienate their customers with proper segmentation and pricing, they actually increase the perception of the customer by adding to their unique relationship.
Price optimization isn't always about raising prices, it's about offering the right price to the right customer at the right time to win the business. Many distributors have essentially no segmentation of their customers and can only offer the same price for every transaction regardless of their customer relationship. Some have only very simply segments based on company size, industry codes or geography. These kinds of segments are too broad to be useful and don't reflect real customer behavior.
Two customers in the same industry can have widely different relationships with you – some are loyal, some are walk-in customers, some are convenience buyers. Good segmentation is the key to understanding real customer behavior, which should be the driver of your pricing strategy.
Price optimization isn't about raising prices for everyone, it's about understanding your customers so you can give them the right price for each transaction. epaCUBE software and expert pricing services can help guide you in creating statistically relevant segments for accurate pricing and increased profits.
epaCUBE can compare similar customers' behavior to give you, your pricing manager and your sales reps the statistically accurate price for each product in each customer segment.
That way, you know that you're offering a reasonable price and stop discounting every time a customer complains your price is too high.
Your reps will be better armed for their negotiations, you will make more profit and your customers will also gain confidence and respect for your consistency.
E-Commerce Requires Tight Pricing and Excellent Customer Experience
Customer experience matters more than ever, especially with the rise of e-commerce. Distributors are racing to find new ways to meet the demands of omnichnnel business and procurement. That requires you to be very precise in your pricing intelligence, analytics and segmentation
Customers expect more than ever, know competition, know prices, and they do more and more of their procurement in omnichannel environments. It's not unusual for a customer to know more about a product and it's pricing than a sales rep. But that's not the case when you manage your pricing with sophisticated customer segmentation because you know you have a real basis for your pricing. Customers also appreciate getting the same price online as in person.
You really shouldn't invest another dollar into an ecommerce initiative until you get your pricing strategy correct, because consistent, profitable pricing is a requirement these days for successful ecommerce. Otherwise, e-commerce will only accelerate and underscore the problems and confusion that result from scattered pricing.
If you'd like to discuss your own pricing issues and strategies with our experts, we'd love to talk to you.