Customer segmentation is the practice of aligning like customers that have similar needs and buying behaviors so you can offer customers the right price for the right products at the right time. Great segments enhance the optimization of prices that will improve sales and margin. The better the segments, the higher the profits. Unfortunately, many distributors never return to analyze and manage their segments after their initial implementation.
When was the last time you updated your customer segmentation?
Many distributors set up their segmentation at the time of their initial implementation but only update their segmentation data infrequently after that. As we discussed in our two previous posts, this is usually because segmentation is viewed as a lengthy and difficult process and not a part of ongoing profit optimization. This means that segments are not regularly discussed and vetted by sales and management teams. Further, without a simple way to analyze and manage customer segments, those segments eventually grow skewed and stale. Customers change their behavior over time and should be placed in new or different segments. Inaccurate segments lead to disorder, customer confusion and a general mistrust of matrix pricing. If your segmentation hasn't kept up with your customers, then your customer specific prices are also inaccurate. All of this leads to higher overrides, lower margins and decreases in productivity compared to a price matrix built on accurate segments.
Introducing epaCUBE Segment Optimizer
Fortunately, epaCUBE has just released the answer to your segmentation worries with epaCUBE Segment Optimizer. With this easy to use tool, you can quickly and easily analyze and update your segments throughout the year to find new opportunities for profit and share of wallet. Unlike the segmentation that may have been established initially in your system – which was often set up with default weighting variables – epaCUBE Segmentation Optimizer gives you total control over the weights and percentages that make up your segments. This allows you to define the statistics around your segments so that they specifically fit your business model.
These segment weighting variables include:
Buying power: sales revenue, unique items, unique orders
Profitability: margin dollars, gross profit percentage, average order size
Cost to serve: average lines per order, average line dollars, returns percentages, DSO
With epaCUBE Segment Optimizer, you'll know your customers are in the right segments and that those segments match your own understanding of your business and your markets, leading to higher profits, reduced overrides, increased productivity and higher trust in your matrix pricing. epaCUBE users are already reporting over 450 basis points of profit improvement as a result of getting their segmentation correct.
How Does epaCUBE Segment Optimizer Work?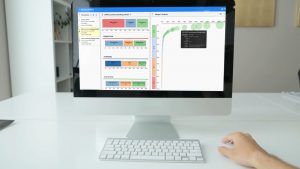 All of the the approaches to distributor segmentation we discussed in our last post are very easy to do with epaCUBE Segment Optimizer. And all of the elements are weighted – by you – to match your exact strategy. So you create a segmentation profile, which is really just a way for you to look at different segmentation strategies. Within that job, at a high level, you can decide just how important the three main types of behavior are to you in evaluating your customers. For example, your company might decide that buying power is half of the issue, so you can give buying power it a 50% weight inside of epaCUBE Segment Optimizer. Then let's say you decided to weight profitability and cost to serve equally at 25% each. Essentially you're saying that the most important element of customer behavior in your segmentation is buying power, but profitability and cost to serve are equally weighted. No you can see your customers in light of these priorities with a single click.
But it doesn't stop there, you can also weight the individual elements that make up each of those main three buying behaviors. For example, when considering buying power you might decide that the most important element of buying power is sales revenue. So maybe you decide to weight sales revenue as 40% of buying power. You can add weights to other elements of buying power as well, such as unique items or unique orders. Now you have an objective measure of a customer's buying power and can easily create new customer segments based on this. Of course, you can do the same with elements of profitability and cost to serve so that your segments are as accurate as possible.
Finally, epaCUBE Segment Optimizer shows you your own customer base by exactly what your actual ABCD customer groups look like. It has a built in graphical UI that makes it easy to discuss how your customers group together based on the priorities you established. If the picture doesn't look right to you, just adjust the weights for the behaviors until you are happy that your segments match your corporate strategy. You can actually just drag and drop all of the weights or even the sizes of each customer group on the screen and review the changes right in front of you. You can also drill into any data variable – for example, maybe you just want to see the chart by sales revenue and get a sense of how the customer groups play out there independently of the rest of the behaviors. And if you hover over any of the bubbles in the chart, it will actually tell you which customers and groups are involved.
We'd love to show you epaCUBE Segment Optimizer in a private one-on-one discussion to see if it could drive new profits in your business. Please visit our Schedule a Demo page to learn more.