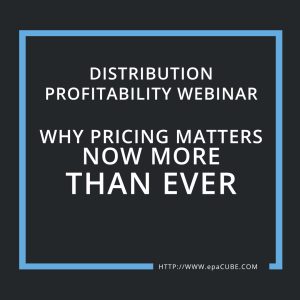 Wow and thank you to the over 100 distributors who registered for our webinar, "Why Pricing Matters Now More Than Ever."
It's clear that many distributors are focusing on pricing and customer segmentation as the fastest path to higher gross profits. Some recent studies show that 60% of wholesale distributors are looking at adding price optimization over the next few years and our own experience with distributors indicates it could be even higher.
Why are so many distributors looking to improve their pricing right now?
That was the purpose of this popular webinar and now we have the recording available for you to watch and share with your team.
At the end of the day, pricing and better segmentation have proven to be the easiest way for a company to increase their profitability. You may not realize this, but small corrections in pricing can have 300% to 400% more impact on your profitability than similar changes in new sales revenue or cost saving measures.
How big is the profit impact? A mere 1% improvement in price translates into an 11.1% improvement in operating profit, while similar improvements in costs and volume have less impact.ds
Register to watch the recording today and remember to share with your team. Your competitors are doing something about pricing this year — should you take advantage of an improved pricing strategy, too?
[dt_button size="big" animation="none" icon="" icon_align="left" color="" link="https://attendee.gotowebinar.com/recording/7767716891651368195″ target_blank="true"]WATCH RECORDING[/dt_button]