B2B Distributors biggest pricing challenge is managing Customer Contracts and Customer Specific Prices (CSP's)

It is not easy to manage contracts and CSP's, because you have a very complex mix of a huge number of contracts, with thousands of individual item prices, that encompass hundreds of different manufacturers.

I have been on distribution pricing teams where it was an everyday "fire fight" to make sure contracts were up to date and active. We struggled and were usually just "reacting" and fixing what was out of date or broken today.

As a team we were not able to get "proactive" managing our contracts until we got organized. Here are some tips on ways to get proactive with contracts and CSP's to grow sales and profits.

1. Establish a contract repository for all your contracts and CSP's
Your contract repository needs to have the ability to extract data at the Customer and Item (SKU) level at the following levels for all active Contracts and CSP's.

Ending Soon Contracts & CSP's – with days remaining. If you have contracts with customers that require a 30 – 60 price change day notification this is critical to manage for your business.

Out of Date Contracts & CSP's – these out-of-date expired contracts can be a customer service issue and create a large number of credits, if the price the customer used to pay suddenly goes up without communication.

No End Date Contracts & CSP's – these "Evergreen" contracts where you may have taken manufacturer cost increases against are often profit drains on your bottom line.

Used Contracts & CSP's – the ability to see items (SKU's) sold at the individual customer and supplier level can help you make better pricing decisions when you renew contracts or receive manufacturer price increase files.

Not Used Contracts & CSP's – the ability to see on contract items (SKU's) not used at the individual customer and supplier level. This can help you avoid situations where you get a "hit" on a contract item that you haven't changed and possibly have taken price increases against.

Managing your contracts in a contract repository allows you to sort by these key attributes down to the customer and item level (SKU) to unlock sales and profit potential.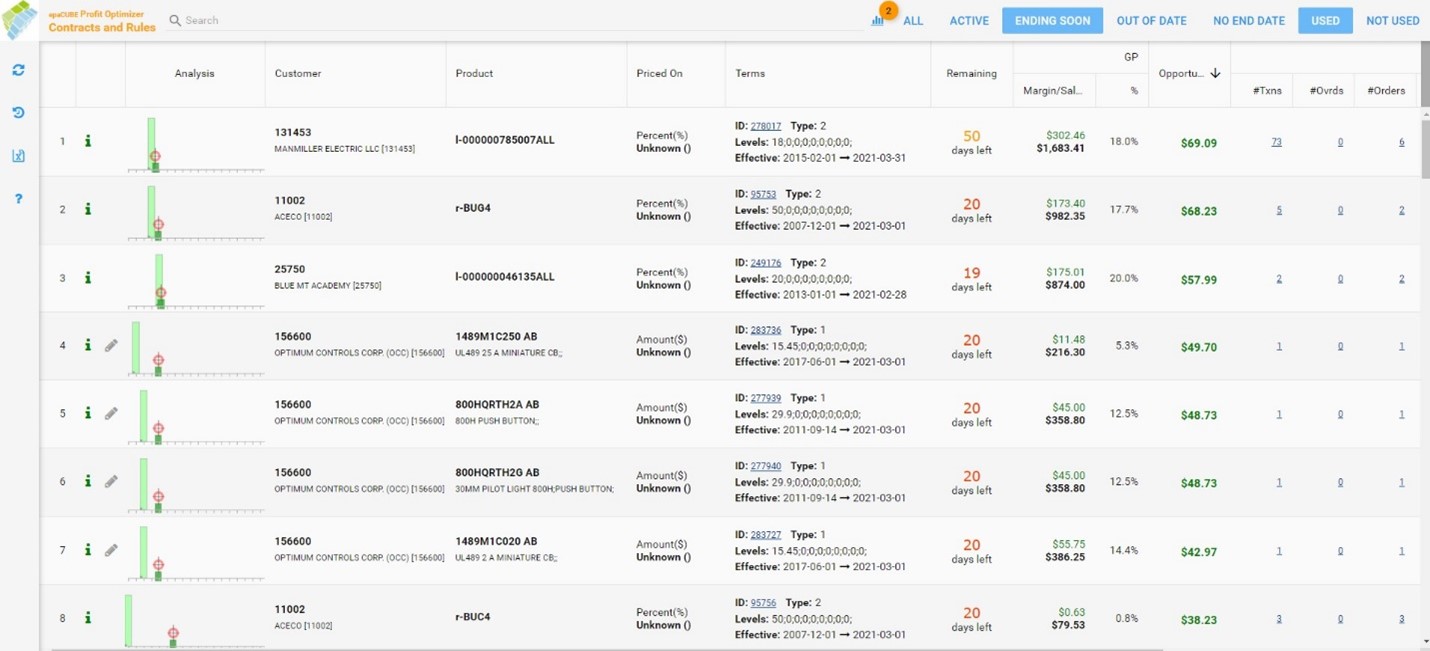 Above screen shot from epaCUBE's Contract Manager Repository Solution

2. Leverage your contract repository data to grow sales and profits
With a contract/CSP repository at the customer and item level you can create winning sales and profit improvement conversations for your company. We would recommend taking the below approach for your top contract/CSP customers.

60 – 90 Days prior to a specific customers contract renewal provide to your team the following data points.
A. Number of SKU's/Items purchased on contract (including total dollars and GM%) –  This data is impactful especially if you can show the GM%'s purchased by the customer vs. other similar size customers you sell to for the same items.

B. Number of SKU's on the contract not purchased – This can be a critical gap analysis for your sales team to identify products that need to talk to the customer about buying again. This is very helpful, if you can show products that were bought in previous years that were not purchased this year.

C. Top 10 List (or more SKU's) sold on contract that represent the most sales dollars – If you can look at these top 10 SKU's with a comparison to what other top customers are paying for those same SKU's you can identify opportunities. You may uncover SKU's where your price is too aggressive and hurting top line growth, and other SKU's where you might be able to improve margins slightly.

By providing data like the above you can make data-based decisions on where to find profit and sales opportunities. It may be that on a few top moving "A" items you are above market, and you need to sharpen the pencil and get more competitive to drive sales. You may find that you have room to get paid a little more for the value you deliver on other SKU's, or you may find some SKU's that the customer used to buy that you reintroduce to them to get those sales back.

3. Use your contract repository data to work with your manufacturer partners more effectively
One of the most effective ways to create win-wins with your manufacturing partners is to be able to share meaningful data in your annual meetings, or when they send you a requested price increase.

With a contract repository that allows you to extract sales at the SKU level. you can provide data to create better win-wins for both parties.

For example – XYZ manufacturer sends you a file with a 4% price increase. With a proper repository you can provide back a detailed report that includes some of the following elements. Total number of customers (on contract/CSP's) effected by increase Total number of SKUs and sales (cost) on Contract/CSP's with effective dates List of top customers effected by the increase – This is key, as it is very difficult to pass on price increases to large customers on contract, and it will give you data to negotiate with the supplier. If you pass the price increase on and lose the business it doesn't help either side. You may be able to work out an exclusion or delay on the price increase at the customer level. Data at this level (like the above example) puts you in position to immediately report back the impact of passing along a price increase to your mutual end customers on contracts and CSP's.
 
4. Use your contract and CSP repository to help your sales team
Managing annual contracts and CSP's with customers is stressful for your sales team and leaders. By providing them regular reporting in advance of contract end dates, you can help them be proactive with their customers.

Arming your sales team with a report of items on contract that were not purchased (that may have been purchased in prior years) gives them a great gap analysis tool to discuss with the customer. That "you used to buy this from me, how can I earn that business back or what happened" conversation can be powerful.

Building a contract/CSP repository can help your supplier relations teams, and improve your sales team effectiveness while growing top-line sales and profitability. You can help your sales team win more sales and do it profitably with a contract management system that helps them be "proactive" vs "reactive".

About the Author- John Gunderson has been in B2B distribution leading pricing, marketing, sales, and category management teams for companies including Crescent Electric Supply, White Cap Construction Supply, HD Supply, Anixter, EIS-INC, and Modern Distribution Management prior to joining epaCUBE. Reach him at jgunderson@epacube.com    
Copyright © 2021 epacube, All rights reserved.