Webinar: Managing Pricing Contracts for Profit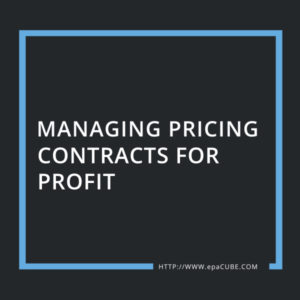 For every $10MM of sales you have on pricing contracts, you could be losing $400,000 to $700,000 of profit on average.
It doesn't have to be this way.
Pricing contracts are an important part of your business. They help drive sales and attract unique customers.
Unfortunately, many contracts are never managed, grow stale, are no longer useful and decline in profitability if not managed along with the rest of your pricing matrix.
Is the contract performing adequately or are your sales reps still entering overrides?
Are margins moving in the right direction across all of your contracts?
Can you identify opportunities to raise price on existing contracts?
Are your contracts really covering up a larger issue with your overall pricing matrix?
Most distributors have no way to evaluate their current contracts to optimize profits, let alone to decide to renew, revise or expire the contract. In fact, our studies show that 60% or more of all active pricing contracts are simply extended by default because of a lack of visibility into expiration dates and half of those are on their second extension.
Without a review and renewal process, a temporary price break to win a sale turns into an evergreen contract with stagnant margins.
Join us on Tuesday, August 20 or Wednesday, August 21 at 2 PM EST (11 AM PST) for our brief and informative webinar, "Managing Pricing Contracts for Profit," where we will discuss topics such as:
Mitigating the stagnation caused by pricing contracts that could be costing you 4% to 7% of your gross profits
Analyzing the statistically right profit margin on existing and new contracts
Identifying opportunities to increase prices on existing contracts
Spending more time making your contracts profitable and less time on administrative tasks and tracking
How a simple 1% improvement in pricing leads to an 11% improvement in gross profits
We'll also introduce you to epaCUBE Contract Manager which allows you easily keep track of all of your pricing contracts, so you can be in full control of your profitability and contract renewals.
Please join us to learn how your pricing contracts can drive profits as well as sales.
Additionally, we are offering other sessions of our popular webinars:
6 Pricing Habits of Great Distributors
Thursday, August 22 at 2 PM EST
Customer Segmentation for Distributors
Thursday, August 29 at 2PM ET / 11AM PT 
Managing Pricing Contracts for Profit
Thursday, September 5 at 2PM ET / 11AM PT