Webinar: Customer Segmentation for Distributors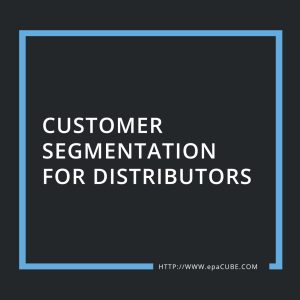 Did you know that epaCUBE customers are reporting 440+ basis points in new profit from advanced segmentation?
Unfortunately, many distributors struggle to define good segments without the proper software.
If your customer segments are in bad shape, you could be losing profit in many areas:
Difficult to understand segments are impossible to discuss with your sales and management teams
Customers change their behavior over time and get frustrated if you don't give them the correct pricing and customer experience
When reps and customers mistrust your pricing, you face higher overrides, lower margins and have to work overtime to analyze your pricing matrix
Join us on Tuesday, January 22 at 2 PM EST (11 AM PST) for our brief and informative webinar, "Customer Segmentation for Distributors," where we will discuss topics such as:
How distributors are increasing profits by 440+ basis point through better customer segmentation
Why segments based on geography, size and buying attitudes simply aren't enough for distribution
A discussion of the real profit-related buying behaviors that should define your customer segments
How to analyze customer buying power with data like sales revenue, unique items, and unique orders
The importance of including measures of customer profitability in your segmentation
How cost to serve can affect your customer segmentation
How to make your customer segments match your corporate strategies
We'll also introduce you to epaCUBE Segment Optimizer which allows you easily keep your segments updated according to the data elements that are important to you.
Please join us to learn how you can save time, reduce overrides, have better informed discussions and increase trust in your pricing matrix with the right approach to segmentation.
REGISTER
Additionally, we are offering another session of our popular webinar, "6 Pricing Habits of Great Distributors" on January 24 at 10 AM EST.