Webinar: 6 Pricing Habits of Great Distributors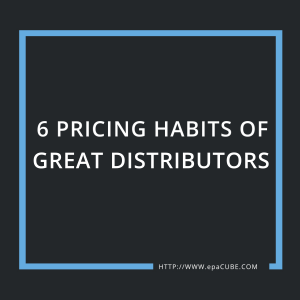 Great distributors have 6 specific habits they put into place to improve pricing, profits and share of wallet.
Join us on January 24, at 10 AM ET / 7 AM PT for the inside scoop on exactly what these distributors are doing this year to improve their pricing.
We all know that the best way for a distributor to increase their profitability is through improved segmentation and pricing. Unfortunately, most distributors are leaving their pricing strategy in the hands of incompetent consultants or subject to the whims of sales reps and competitors.
Join us to discuss what the most important practices are in a distribution pricing strategy, including:
The right data necessary to make the right pricing decisions
Getting to the right customer and product segments to make smart choices about your business
Ending confusion about pricing with your sales reps, branch teams and customers
How to reduce or eliminate pricing overrides that are killing your profits
Getting a handle on complex pricing situations that span thousands of products and customers
You owe it to yourself to see what leading distributors are doing about their pricing.
REGISTER
Please also join us on January 22 at 2 PM ET / 11 AM PT for a brand new webinar, "Customer Segmentation for Distributors."